"Cologne Streetart Bike Tour" – through Cologne's urban galleries
Discover Cologne's urban art off the beaten track!
Get away from the tourist center around the Cologne Cathedral and into the colorful, hip neighborhoods of the city. On our "Cologne Streetart Bike Tour" you will experience how art can enhance neighborhoods and often blend into the cityscape undiscovered. You will go on an active and cultural bike tour through the streets of Ehrenfeld, the Belgian Quarter and the city center. Every day, new pieces of graffiti, murals, paste-ups and stencils are created here to beautify the urban jungle, while other works of art simply disappear from one day to the next. Street art is alive and so varied that each of our street art tours is unique!
Book our "Cologne Streetart Bike Tour" directly online
Our public "Cologne Streetart Bike Tour" takes place from March to November on weekends and public holidays in English. Choose the date that suits you best:
Our "Cologne Streetart Bike Tour" in a nutshell
English tours on weekends & public holidays; accompanied by expert guides
Small groups of up to 15 people 
approx. 3 hours, including break
approx. 15 kilometers
from 32,90 euro per person, including city bike & helmet
More comfort? E-bike upgrade for only 14.90 euros!

| | |
| --- | --- |
| Sightseeing |    ● ● ● |
| Parks & Green Spaces |    ● ● |
| Culture & Urban History |    ● ● ● ● ● |
| Rhine Panorama | |
| Culinary Experiences |    ● |
Our "Cologne Streetart Bike Tour" is exactly your thing, but you don't speak English? No problem! We offer the "Streetart Tour" as a private guided bike tour also in German. Klick here for the offer.
What you can expect on our "Cologne Streetart Bike Tour"
On our guided bike tour through Cologne's trendy neighborhoods, you'll be far from the Art Cologne and the Wallraf-Richartz Museum on your way through the street galleries of Cologne and experience the urban city culture up close. Long before Banksy's street art found great recognition within the international art scene, Cologne's streets were colorful and lined with numerous works of art. 
Cologne's urban streetart galleries!
You start your bike tour to the south and leave the multicultural Eigelstein quarter via the small alleys towards the Gereons quarter and Friesenwall. Keep your eyes open, because there's already a lot of street art to discover here: from large murals by the Captain Borderline collective or the famous Cologne Banana Sprayer, to small stickers, graffiti and sculptures! Your guides will explain you a lot about the origin of the individual works, about different techniques and sharpen your eye for the sometimes not so easy to find artworks on your route.
Streetart and urban culture in the "Belgian Quarter" 
Arriving in the Belgian Quarter, we head directly to Brüssler Platz, one of the most famous meeting places of Cologne's nightlife and hotspot of the street art scene in Cologne. All kinds of artists from all over the world have already made their mark here and ensured that the streets become more colorful. But beware! Street art is ephemeral, is not always created legally and does not please everyone. Where there was art yesterday, it can look very different today.
You leave the "Belgian" and start your journey of discovery in the hip-alternative district of Ehrenfeld, which nestles up against the Inner Green Belt. A district characterized by cozy cafés, fancy restaurants, boutiques, clubs and bars in former industrial facilities, beer gardens, kiosks and a colorful crowd that cavorts on the Ehrenfeld squares. Your guides will explain a lot about current urban development and gentrification in the neighborhoods. You cycle along Vogelsanger-, Venloer-, Licht-, Glas-, or Piusstraße, which are lined with large murals by artists like Roa, Inti, and Ethos.
Cologne Streetart Bike Tour: Murals, Paste-Ups and Graffiti in Ehrenfeld
You visit the Wall of Fame at Ehrenfeld train station, where large, offbeat murals by international and regional artists line up, and discover stickers, paste-ups and stencils at the Street Art Gallery on Körnerstraße. In the shadow of Cologne's central mosque, past the Herkulesberg and Mediapark, we'll take a relaxed ride through the green belt back to Eigelstein.
Please note that there are no prescribed routes for our "Cologne Streetart Bike Tour" and the dynamic scene makes every tour a unique experience!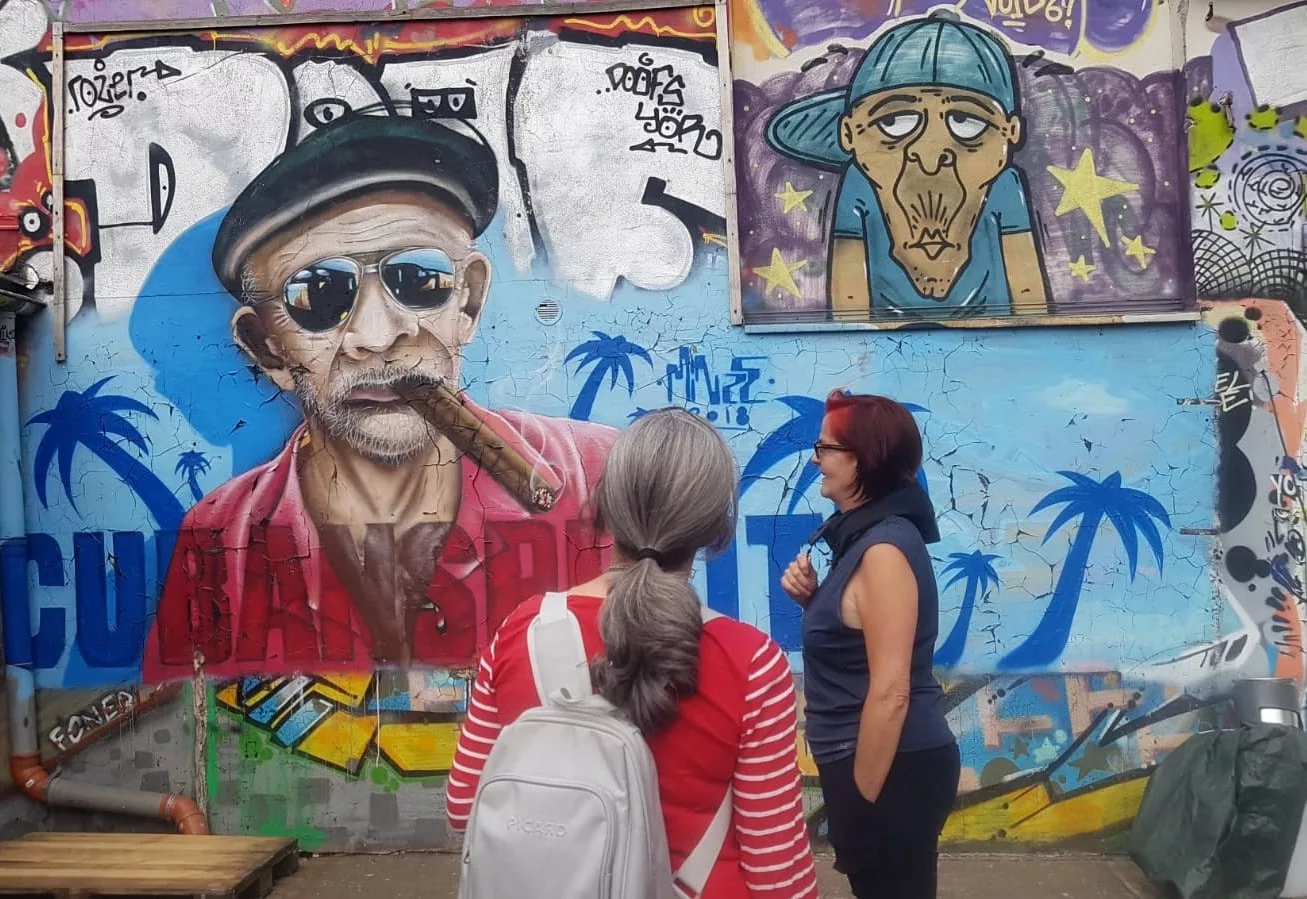 "Cologne Streetart Bike Tour" in summary
The Highlights of this Tour
Eigelstein, Gereons quarter and Friesenwall
Streetart Hotspots in the Belgian quarter: Brüssler Platz and Brüssler Street
Streetart on Vogelsanger Street
Railroad line in the Helios-area
Wall of Fame at Ehrenfeld train station
Ehrenfeld: Venloer-, Stamm- und Körner Streets
And much more…
What is included in the price of the bike tour?
Use of city bikes on tour
Helmets are available upon request
English-speaking guide
Disposable rain ponchos in bad weather
100% active cultural enjoyment: sightseeing and cycling!
More impressions from our "Cologne Streetart Bike Tour"
You would rather book the "Cologne Streetart Bike Tour" as a private guided bike tour?
You like the route and topics of our "Cologne Streetart Bike Tour", but you would prefer to cycle through the different Cologne neighborhoods in private with your own guide or to take more time to look at the artworks? Click here for the "Streetart Tour" as a private guided bike tour in German and English.
Not the right tour for you?
Click here for our other public guided bike tours:
You like our tour offer and you would like your families, friends or colleagues to come on a bike tour with Colonia Aktiv?
Guided bike tours are also available as a gift!